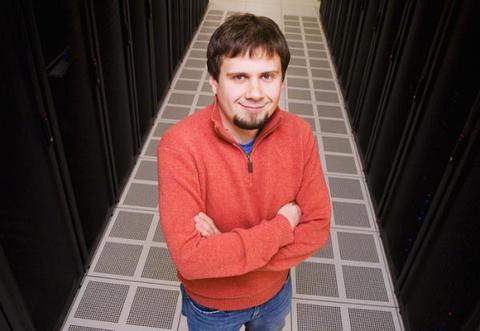 Loomis Laboratory of Physics
1110 West Green Street
Urbana, IL
61801-3080
Dr. Aksimentiev has a background in soft matter physics and now deploys computational methods to investigate physical phenomena at the interface of solid-state nanodevices and biological macromolecules. In his graduate work, he applied methods of field theory to predict phase diagrams of polymer mixtures, focusing on the conformational properties of single macromolecules. Subsequently, he discovered a universal scaling of the morphological measures quantitatively characterizing the topology of the three-dimensional patterns that emerge during the process of phase transition. In the focus of his current research program are systems comprising silicon-based synthetic membranes and biomolecules— DNA, proteins, and lipids—assembled into novel silicon circuits that can act as sensors, tweezers, and scaffolds for assembly of biosynthetic complexes. His theoretical work on DNA translocation through nanopores is recognized as the first computational study of that kind. He is an expert in modeling membrane proteins and molecular motors. His pioneering work on modeling ionic transport through membrane channels is a seminal demonstration of the utility and predictive power of the molecular dynamics method, which now has many followers. Within the NIH Center for Macromolecular Modeling and Bioinformatics (UIUC), he directs development of the software solutions for computer modeling in biotechnology, which are used by many researchers worldwide. He disseminates his technical expertise through numerous self-contained study guides (tutorials) that many researchers starting out in the field of computational biological physics use as their textbooks. He integrates his research into classroom teaching through a unique interdisciplinary course Physics of Nanomachines and undergraduate Biophysical Phyiscs course.